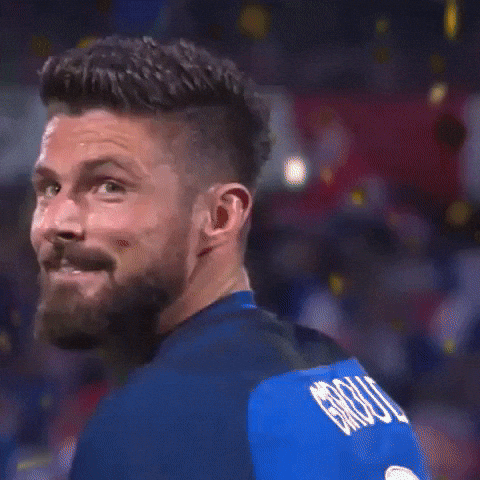 Olivier Giroud – 52. Thierry Henry – 51.
Watch out, Olivier! You become too top and legendary. At this rate, Kylian and I will lose the opportunity to explain to anyone who is willing to listen that a 0-goal striker at the 2018 World Cup can be cool and important.
But even now, Giroud is doing his job and scoring goals. In this order.
"The forward must first of all plow on the team, constantly put pressure on the opponent, put pressure, fight for the balls – this is what I always do when helping the team. After that, I try to score a couple of goals, "the Frenchman explained immediately after moving to the Premier League.
10 years later, he went down in history, but did not betray this principle. That is why I can not imagine a person who would not experience joy for Olivier.
Giroud is the intersection point of two types of football viewing. He is also loved by those who simply celebrate goals. And those who follow every move, sometimes forgetting to celebrate goals, to rewind to the beginning of the episode and take a closer look at how it all began. It's ironic that Olivier broke two records at once yesterday, giving us the choice of which one to celebrate first.
The first for the general public to collect compliments – now Giroud is the leader in goals for the national team. The second is not obvious, but no less important for understanding the value of Giroud. This is Mbappe's under-24 World Cup goals record. Giroud's attacking partner is on a record-scoring pace for his age in the tournament. Kilian scored 7 of 8 World Cup goals with Olivier on the field.
The connection is direct. Kilian talked about her, complaining (not directly but in essence) that at PSG he had to play with Neymar and Messi instead of Olivier: "I play for the national team in a different role. I have more freedom because Giroud plays a nine and draws the attention of defenders.
Mbappé is far from being a fan of Giroud. At Euro 2020, they had a very public conflict, but Giroud's paradox is that even arguing with him, it is impossible not to admit how useful and cool he is. He left Arsenal for Chelsea (and even gave a not-very-nice hello after the EL final between the teams), but for me, as an Arsenal fan, he still remains his own.
In fact, two such different Giroud records are about the same thing. This is how the Frenchman described his work: "In order to get rid of the defender, the attacker must first make the first jerk, then another one. Show that you are going to the near post, and be on the far post. Such movements with the aim of liberation are the basis of my work.
There is nothing random about them. If they were random, they would not help to consistently score goals. They are based on constant repetition and perseverance. You always have to believe. This is a key quality for any striker. Never stop and never stop believing."
By repeating these actions, Giroud creates hell for the defenders. Depending on their reactions, either he or a more stellar partner is free. For this reason, everyone loves to play with him so much. In such a monotonous but important work, Giroud is one of the best in the world. He does not wait for inspiration, he constantly provokes situations that are uncomfortable for the opponent.
Giroud's record is also about durability. He is not only the record holder for goals for the national team but also the oldest goal scorer. "Friends call me the Phoenix of Grenoble. It's a compliment that means that no matter what the circumstances, I never give up."
Couldn't think of a more accurate name. In chunks, Giroud lost his place at the base of every top club (and national team) he played for, only to be useful later on when needed. It's impossible to break it. It's great that football sometimes encourages this.
Another feature of Giroud's record is that, in a sense, it has already been broken. At the very least, we can predict with great probability who will replace him and approximately when this will happen. Mbappé had scored 33 goals for the national team by the age of 23. Now he is even younger than Olivier when he made his debut for France.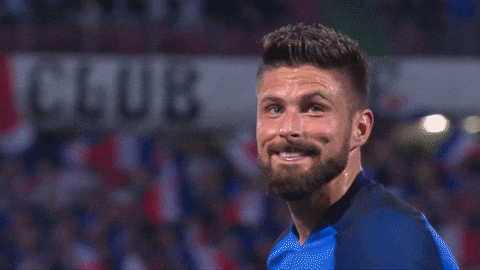 Giroud is a short window between two geniuses, which shows that sometimes hard work and stubbornness in the highest manifestations beat talent. This is a human achievement, not an argument about greatness.
Giroud doesn't argue with Henry or Mbappe. He was never under such pressure, and never chased records. He just worked for the team – he made branded breakthroughs, not dividing them into those from which he benefits and those that are beneficial to partners. And then at some point, I was stunned by how much work I did.
Giroud's autobiography is called "Always Believe". Throughout his career, Giroud believed and squeezed the maximum out of his qualities. "It's impossible not to bow down to Olivier's career. Nothing was given to him initially – he won everything with labor, "Arsene Wenger summed up a couple of days before the record.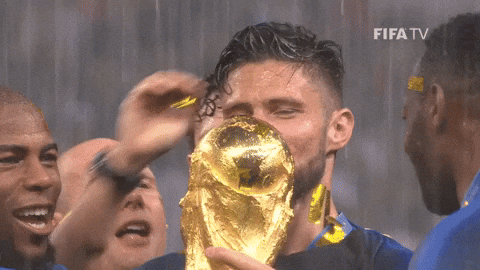 Olivier, I bow. To me, you will always be underestimated. Previously, this word had to protect you from criticism. Now it complements the goalscoring records, indicating that there is something more behind them.
That is why Giroud is great. Giroud doesn't need goals to play well in his role. But Giroud is so irresistible that goals find him. He will never ask to rewrite someone else's ball, but every ball wants to be recorded on him. This is how the paradox of Olivier's greatness is formulated – that is why there are practically no people who do not sympathize with him.